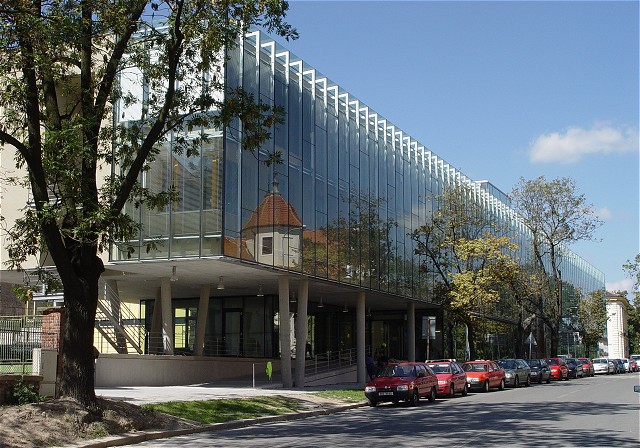 Map of the campus
Zoomable plan
Address
Address in Czech
Description in Czech
---
Address:
Martin Cadik, Office L231
Faculty of Information Technology
Brno University of Technology,
Bozetechova 1, 612 66 Brno, Czech Republic
Tel: +420 5 41141284 Fax: +420 5 41141270
http://www.fit.vutbr.cz/FIT/location/index.php.en
Address in Czech:
Martin Čadík, Office L231
Fakulta informacnich technologii
Vysoke uceni technicke v Brne
Bozetechova 1, 612 66 Brno
Tel: +420 5 41141284 Fax: +420 5 41141270
http://www.fit.vutbr.cz
http://www.fit.vutbr.cz/FIT/location/
Description in Czech
(in case you need to show it to someone speaking just Czech) – show the person the address above and the following comments:
Brno – Kralovo Pole
"Kadetka" Vysokeho uceni technickeho.
byvaly kartuziansky klaster, vedle kralovopolskeho kostela
200 m pod Semilassem a kousek od Kralovopolskeho nadrazi
By plane
Brno has an international airport situated 7.5km from the centre of the city. The international airports in Prague and Vienna, which are served by most airlines, have a good bus connection served by Student Agency buses.
Airport Brno-Tuřany – You will find all flight information at www.brno-airport.cz. To/From the Airport Brno you can get very simply from the very centre of the City of Brno in the day and night with Public Transport.
Airport Prague-Ruzyně (200km) – You can use bus connection from Ruzyne to Brno with Student Agency buses (recommended). The bus station can be find directly at the terminal. Note that you must change buses at the bus station Florenc in Prague, but you buy only one ticket for the whole trip at the airport.
Airport Vienna-Schwechat (130km) – We also recommend to use Student Agency buses. You can find the bus station directly at the terminal and it will get you to Brno.
Airport Bratislava (120km) – Brno can be reached by bus, car or train. But you have to travel from airport to city center to get the bus or train.
By car
Enter "Bozetechova 1, Brno" to your navigation. If it does not know the address, try "Bozetechova 2, Brno".
From Prague
On D1, take the 1st Brno exit: Brno-zapad (Brno-west).
Go straight ahead, you will pass through a tunnel. At the exit from the tunnel, follow the signs "Svitavy".
Go straight ahead, the road will shrink to 2-lane when going around the river, then become 4-lane again. Follow "Svitavy" all the time.
When coming to the 2nd tunnel, stay in the right lane. At the end, follow "Svitavy" – this will make you do a right turn and then a U-turn.
Take the first exit following the U-turn. At the top of the ramp (traffic lights), turn left. On the next lights, go straight ahead, on the next ones – to the right. You are now on Bozetechova, the new FIT building is on your left, the old one (monastery) is on your right.
Take the 1st left (Metodejova street) and immediately left – this is the entrance of FIT underground parking.
From Vienna
FIT is located in "Kralovo Pole" at the north of Brno, which means exactly opposite direction to Vienna. This itinerary describes a bit longer, but surely faster way around Brno rather than through the center.
After the sign 'Brno', continue a few kilometers until you see highway signs 'Praha' – E50, D1.
Take the highway exit 'Praha' (involves a 270 degree turn).
Go a few kilometers west on the D1 highway, take the 1st exit: Brno-zapad (Brno-west).
Continue from point 2. above in the directions for Prague.
Parking at FIT
At the entrance of underground parking:
call someone at FIT to announce that you're arrived and that you'll need to be picked from the underground parking. It's important to call someone BEFORE you enter the underground parking – you need employee card to get to the building and there is no phone and bad mobile phone signal, so you risk to get locked there (actually, there IS a way out – just go to the gate, and push the big white button – no need to have a card ;-) )
Ring the bell "Vratnice", this will connect you to the reception.
By tram
Get ticket: 20 CZK ticket in a Tobacco shop (Tabak) or yellow vending machines at stops – it is good for 15 minute ride, which is well enough. Stamp it once in the tram. Tickets can be bought also from drivers but you need exact change and they're a bit more expensive. For longer trips in Brno, get 25 CZK tickets, that are valid for 60 minutes.
From main train station (Hlavni nadrazi) to FIT: take tram No. 1 in front of the station, direction Reckovice. Get off at stop 'Semilasso'.
Go a bit back and go downhill (street Metodejova) some 200m. You'll have a baroque church in front of you. The nice new building on your right side is FIT, the entrance is some 50m on your right.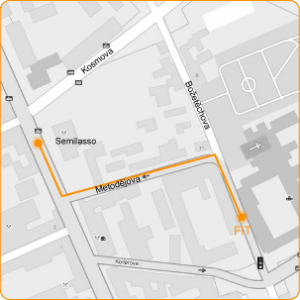 Accommodation
We recommend you to arrange accommodation in Hotel Continental.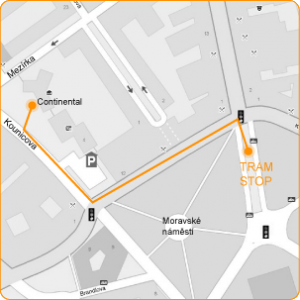 From the Hotel you need to get to the tram stop at "Moravske namesti" (approximately 300m) and there take tram No. 1 in the direction of "Reckovice" or tram No. 6 in the direction of "Kralovo Pole". You will need a 15-minute tram ticket in the amount of CZK 20.